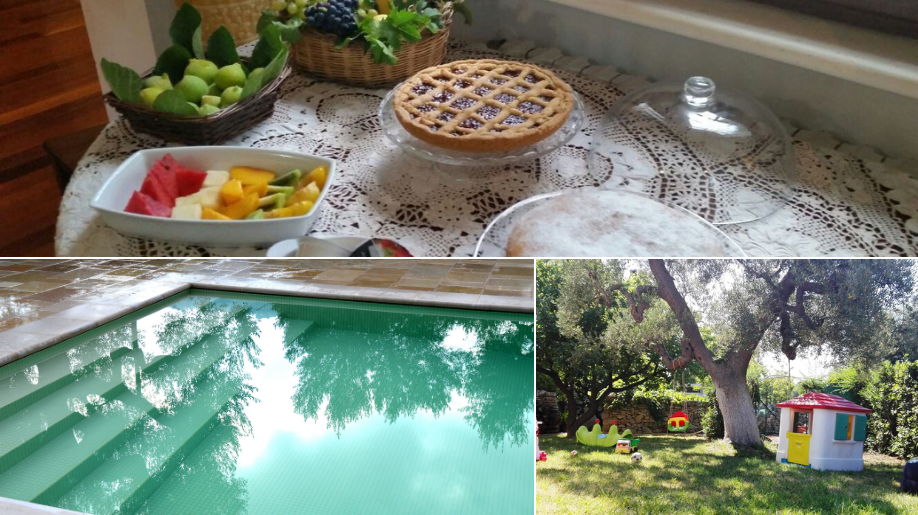 FACILITIES INCLUDED
Masseria Fragnale, located at the foot of the hill, immersed in the silent countryside, it is a perfect oasis to dedicate yourself to your relaxation. Guests will find a corner of peace in the newly built swimming pool, to enjoy the sun of Puglia in total tranquillity.
The swimming pool is equipped with every comfort and will be available to those who want to dedicate themselves to sunbathing while sipping a cool drink, or reading a good book!
And for those with children, they too will have the right to enjoy a nice holiday in Masseria Fragnale n the fully equipped play area at their disposal. Located in the lawn that surrounds the b&b.
The show piece of Masseria Fragnale s the rich and tasty breakfast, where guests can taste Apulian quality products as well as typical tarts filled with jam and creams, and a selection of the best seasonal fruits, all served in the internal room of the structure or in the delightful outdoor gazebo.
ADDITIONAL SERVICES
Masseria Fragnaloffers additional services for those who want to use the gazebo for lunch or dinner, in the company of friends, it is possible to organize tasty light lunches or nice grilled meat or fish.
In the cooking corner there is a wood oven, a barbecue and a large refrigerator will all be at your complete disposal.
Traveling in Puglia is also a journey through the typical recipes of its cuisine, to learn and taste genuine products and simple dishes.
Masseria Fragnale takes you into the flavours and aromas of Puglia, through the engaging experience of a cooking class. Guided by experts, you will be able to prepare the typical dishes of the Apulian tradition: focaccia cooked in the typical wood oven seasoned with extra virgin olive oil and queen tomatoes, fried panzerotti, bread and simple friselle seasoned with freshly picked tomatoes, orecchiette with cime di rapa, al ragu 'or with cacioricotta cheese.
The cooking class takes place in an antique masseria, where participants will have lunch with the dishes prepared during the lesson.
As a gift, at the end of the experience with the recipes of the dishes.
Masseria Fragnale and its staff will also be pleased to offer you a series of services and packages to book on site for the person and well-being, or fantastic excursions with rural or coastal routes, which will stimulate your stay in Puglia.
The masseria makes a PC station available to "traveling workers" to work relaxed on vacation, immersed in nature.
ELECTRIC CAR CHARGING STATION
Do you have an electric car? No problem, from this year you will be able to recharge your vehicle inside the car park.